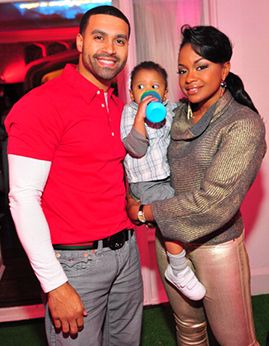 'Real Housewives of Atlanta' resident convicted felon Apollo Nida has had enough stress in the recent weeks from explaining to your cousins on KIK while he still hasn't returned their money he promised to flipped via a flaw in MoneyGram's systems. So when a charity recently accused him of trying to pull a fast one, he reached critical light skinned levels and decided to fight back.
Chase DeCarlo of Dio Bambini reached out to Phaedra's purse watcher to host a charity event in Chicago, which would be for battered women and children. Apollo asked for a $2K appearance fee, some of which he felt he contractually should have received up front.  However, Dio Bambini says they were "feeling really leery" about giving the 'RHOA' star a deposit for the event, since it was scheduled to take place weeks after Apollo's impending court date. According to DeCarlo, Apollo was "pressuring me to book him."
While you are scratching your head on why Apollo would even be asked to speak at an event on battered women in the first place (because beating up Kenya Moore's best gay friend on television has to count for something damn it) the charity is hard at work doing their part to tarnish his stunt queen reputation.