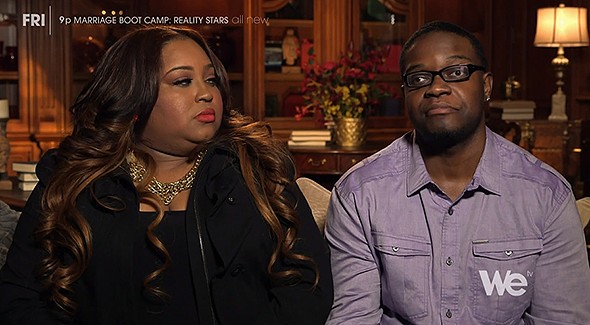 Hypothetically speaking, let's say one of your significant other's eyeballs looked like the bubble dome placed in the center of the Trouble board game. How would you manage to maintain a solid bond despite never being able to see eye-to-eye?
Perhaps that's one of the things plaguing 'Bad Girls Club' alum (because that it some shit to be proud of, thank you) Tanisha Thomas.
The Princess of Pop Off and her estranged husband Clive Muir join four other reality television couples in a Hollywood mansion for relationship counseling on the new season of weTv's  'Marriage Boot Camp' series.
I'm not only a client but I'm also the president of You Ain't Shit For Laughing At People Who Can't Help It Club of Colored People. That being said, I wasn't able to make it past the first five minutes of their screen time with a straight face.
Father forgive me for I have sinned. Please extend your hands towards the screen in prayer for Clive's eyeball situation and watch a video clip featuring the couple after the jump.