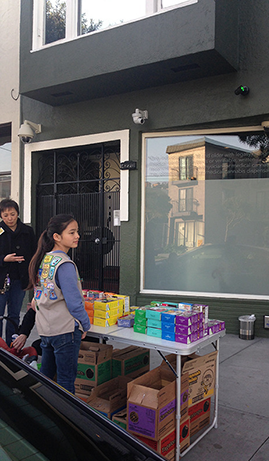 "I'm emotional, I hug the block." — Young Jeezy, "Go Crazy"
When Gucci Mane recorded the How To Get Rich Quick Guide known as "My Kitchen" it was up to the masses to take notes and apply it accordingly to their master plan. One 13-year-old Girl Scout is achieving great success in business by doing just that.
Danielle Lei and her mother set up shop outside the Green Cross store, a pot dispensary in San Francisco, California, with crowd favorites such as Thin Mints and Samoas. With the store's blessing, Lei sold 117 boxes in two hours. Holli Bert, a spokeswoman for the Green Cross, said that after just 45 minutes, Lei had to call for back-up cookies to replenish her stock.
"You put it in terms that they may understand," Lei's mother, Carol, told Mashable. "I'm not condoning it, I'm not saying go out in the streets and take marijuana. It also adds a little bit of cool factor. I can be a cool parent for a little bit."