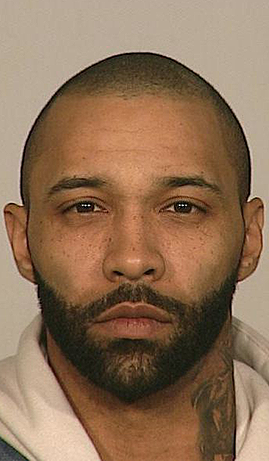 Joe Budden isn't going to let yet another alleged domestic squabble prevent him from hitting the booty club.
The 'Love & Hip Hop' reality star is facing facing charges of assault and robbery after allegedly beating his former flame outside of a nightclub in the early morning hours of August 18.
"I'm gonna sue the living shit out of u gentleman. I'll be in a strip club in Astoria tonight," Joe tweeted to the NYPD on Saturday. "Let the 'manhunt' know."
"Manhunt, suck my dick, lol" he wrote in a follow-up tweet moments later.
Earlier in the day, the New York City Police Department asked for the public's assistance in tracking him down via Twitter, posting the featured mugshot along with the caption "WANTED: Joe Budden, 6ft., 200lbs., for robbery/taking cellphone of F/25 at 4:30am 8/18. Call #800577TIPS."
Joe stands accused of forcing the 25-year-old woman into his car before before smashing her head off the dashboard and driving to his New Jersey home, where the beating allegedly continued. Click here to view pictures of his ex-'s injuries.
According to published reports, the 33-year-old rapper flew into a rage after he saw pictures of his model ex-girlfriend on Instagram clubbing with other men.
Cops say he also stole the woman's cell phone before twisting her arm and shoving her into his car. She ultimately escaped and called police.
More tweets from Joe:
I'm gonna sue the living shit out u gentlemen. @NYPDnews

— Joe Budden (@JoeBudden) August 23, 2014
Manhunt…. Suck my dick, lol

— Joe Budden (@JoeBudden) August 23, 2014
I'll be in a strip club in Astoria tonight. Let the "Man hunt" know. @NYPDnews

— Joe Budden (@JoeBudden) August 23, 2014
Glad to see our tax payer dollars being put to good use ! Lol

— Joe Budden (@JoeBudden) August 23, 2014
Only 1 thing to do in times like these………… so lemme go beat off like the real nigga I am.

— Joe Budden (@JoeBudden) August 23, 2014
From an undisclosed location. Lol

— Joe Budden (@JoeBudden) August 23, 2014