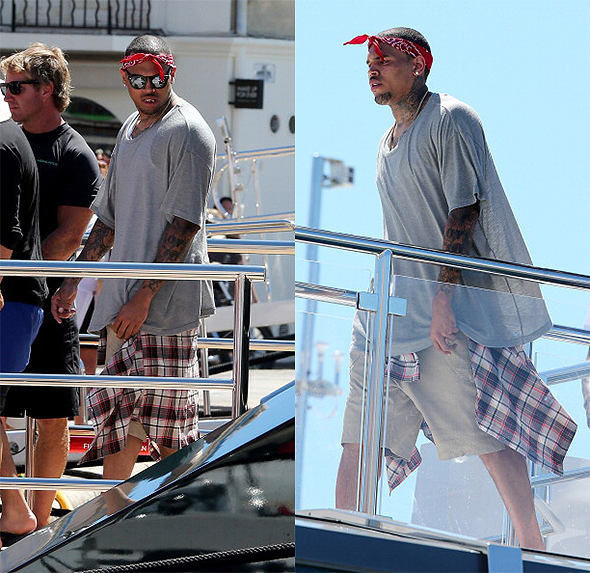 Chris Brown aboard his yacht on July 31, 2014 in Saint-Tropez, France.
Imagine a mob of Willow and Jaden Smith clones interlinking their arms and swaying side to side while singing an accapella version of Journey's signature hit "Don't Stop Believin'" standing outside of your bedroom window. That's the sound of Tumblr rejoicing.
Over the weekend, Chris Brown showed his approval of a photo-chopped and screwed picture featuring some PDA from former girlfriend Rihanna in the form of a nuzzle.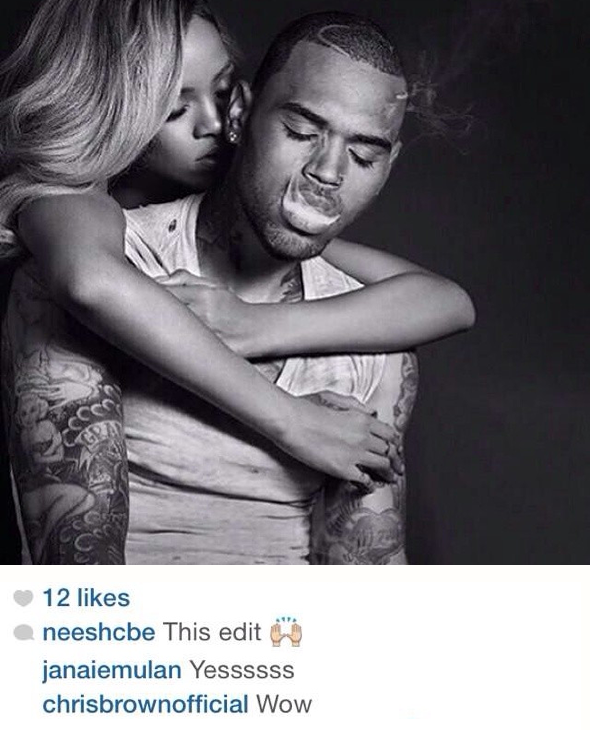 The original snapshot is from Rih Rih's Rogue Man fragrance ad.
This isn't the first time Breezy has given the thumbs up to the hard work of some anonymous person from the internet on a relentless mission to see him back together with his superstar ex.
Chris Brown played the Rihanna card one too many times with Karrueche Tran. We've learned Karrueche has not only broken up with him for safe measure she changed her number. Our sources say Karrueche exploded when Chris recently "liked" 2 fan photos on Instagram of Rihanna and him together. But Rihanna was only a small part of Karrueche's problems with Chris. We're told she was unhappy for a long time. As sources put it, because "Chris acts immature, like a child." She thinks he's ruining his life by spending more time partying than making music. Chris' reaction to the break up has been breathtaking. He went to St. Tropez this week and took a very good friend of Karrueche's along for the ride. And he made a point to be photographed with her making sure Karrueche would see it. | TMZ
Picture Edit + Caption: Bossip