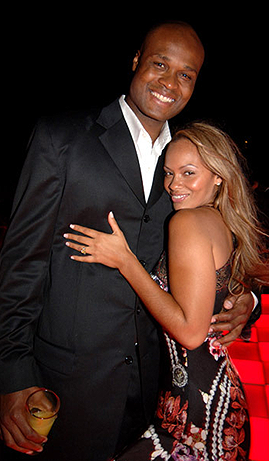 In the documentary 'Gone In An Instant,' Antoine Walker exposes how he went from NBA All-Star to a breathing cautionary tale of blowing around $100 million in hopes of preventing other athletes from making the same mistakes.
The retired baller didn't hold his tongue when speaking about ex-fianceé Evelyn Lozada during a recent stop at the 'The Russ Parr Morning Show' to promote the film, slamming the 'Basketball Wives' star for skipping out on their relationship when his million-dollar lifestyle came to screeching stop.
"My thing with Evelyn is she reaped a lot of benefits of my wealth. And when it got tight, she chose to go a different direction," vented Walker. "So that's the problem that I have with Evelyn. That's more personal."
"I dated Evelyn for 10 years. In 1999, I signed my ninth deal in 1999. So she got to reap the full benefits of the whole process," he said. "She played her part. You think someone will have your back and that's my whole thing. Evelyn went on with her reality show and we all know all her relationships she's been in since me."
"It hasn't been about let me make sure Antoine is okay. So that's a big difference. That's why I have a problem with Evelyn. It's more personal. It's tough when you take care of some people and you make sure that they're good, their family, their daughters and then they just go left field."
He continued: "We got engaged in 2007. We broke up for a minute so that's what delayed the marriage, and towards the end, she left when things hit the fan."
Since the end of their relationship, Evelyn has been romantically linked to two professional athletes. She married and divorced former NFL star Chad Johnson, and has had a child with current fiancé, Los Angeles Dodgers outfielder Carl Crawford.
After the interview went viral, she had took to Twitter to defend herself:
LOL! Funny how he don't even know when we got engaged! It was in 2006 not 2007 & he got left cuz he was cheating! FYI – He was still playing in the league when I chalked up the dueces & before he filed bankruptcy! So please quit with the lies! I don't talk about u why talk about me?! Move on it's been 5 years!
'Gone In An Instant' will be released in 2015.