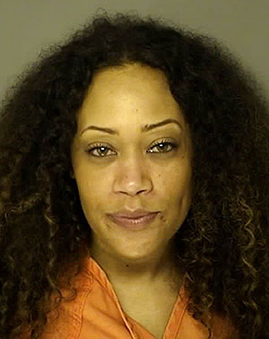 While Beyonce treated hardworking wig crypt employees with a trip to a Houston-area skating rink, ex-Destiny's Child member Farrah Franklin and her vagina narrowly escaped becoming jail house currency this weekend. An extra chocolate pudding cup is hard to come by these days behind the wall, or so I've been told.
The disgraced purse watcher, who was apart of the group for five months in 2000 before being booted, was arrested Sunday morning for disorderly conduct in Conway, South Carolina.
Sources tell TMZ (who first reported the story) "alcohol was definitely involved." Sounds and look about right. Franklin was booked around 5AM EST Sunday and released on bond shortly just after noon the same day, according to the Horry County Sheriff's Office.
She was also arrested in Los Angeles back in 2011 for disorderly conduct, later claiming she was the victim of racial profiling. Never heard of that one before. Have you?
Before the arrest, she posted a picture of herself on the beach to Instagram.
Following her brief visit to the clink, Franklin later posted some fake deep quote to her account, adding "I'm good just hate the dumb media sometimes, but hey this is the job I signed up for. So I respect it."