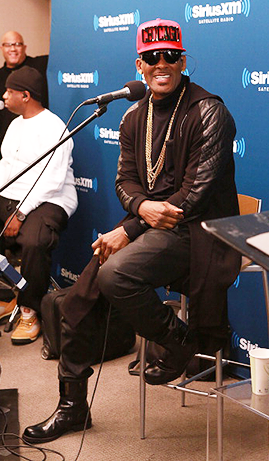 R. Kelly's love for little girls is one in a million, so it's not surprising to hear that he may be having some difficulty coming to terms with his 14-year-old daughter's Jayla decision to transition into the young man she feels she was born to be. Nothing wrong with finding your inner Raven Symone in 2014.
Now identifying as Jay, Willow Smith's future summer fling declaration of manhood must have missed his father.
"You don't really wanna open it up by saying my daughter is becoming my son," he told Chicago's WGCI on-air personality Nina Chantele during a sit down interview at Summer Jam 2014.
He continued: "You know what I'm saying? Always believe what you see, with your own eyes, that is. Always believe what you see. That's the best way to go about this business. I've heard a lot of things about a lot of people, and it was never true."
RELATED: Here's R. Kelly Looking Like That Facebook Friend Request You Refuse To Accept
"You save money so your kids can go to college," he said later in the interview. "No matter what they are or who they are, they're still your kids, you love them, you know? You've got to support them. You want to support them. At the end of the day it's not about me no more. It's about three lovely, lovely kids that I am in love with and that's in love with me."
Watch the full interview: