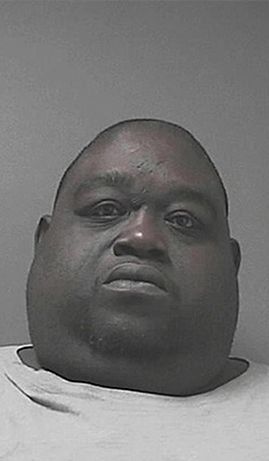 The first time I discovered a Flamin' Hot Cheeto lodged inside one of my love handles I knew a change had to be made. And no, I didn't eat it. They're called standards, get you some.
Hopefully, the same Come To Jesus moment happens to Christopher Mitchell while he's behind bars.
The 42-year-old, who tips the scale at 450 pounds, managed to stash 24 grams of weed and a sprinkle of fairy dust cocaine under his FUPA when police stopped the vehicle over he was riding in because he wasn't wearing a seatbelt.
A Volusia County, Florida sheriff deputy says he requested a drug-detecting dog because Mitchell and the driver appeared nervous.
Always the ingenious negroids, Big Mitch and his partner in crime tried to mask the smell of drugs with carpet freshener and scented dryer sheets. Too bad that shit didn't work. Lassie detected the presence of drugs in the vehicle and it was a wrap.
SAD GABOUREY FACE RATING [OUT OF 5]
In addition to the drugs found on the Overweight Smuggler, deputies say they also located a handgun in the middle condole and $7,000 in cash stuffed in a tube sock.
Mitchell was convicted in 2002 for conspiracy to traffic cocaine, but records show he has gained about 200 pounds since then. I don't feel so bad about that red velvet cupcake I had earlier now.
Now Playing: Trina – "Pull Over"