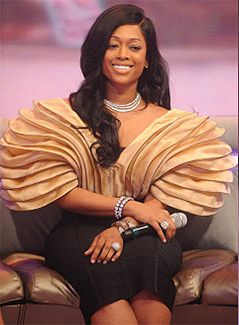 The often nutted inside but never wifed Patron Saint of Paid Hoes, Katrina Laverne, was honored by 106 & Park last week in celebration of the 14 year anniversary of her holy grail of sideline hoes debut album, 'Da Baddest Bitch'.
To the shady yet accurate individual on social media who made the observation that she looked like an elegant croissant for her appearance, we speak your name.
The former Miami Northwestern Senior High School majorette captain showed off her baton twirling skills before sharing that she has plans to release her own signature fragrance later this year. That's right folks, soon you too will be able to finesse the bank accounts of married men by scent alone.
Later in the show she took to the stage for perform a medley of hits including "One Minute Man," "Pull Over,""Single Again," and "B R Right".
Receive your daily blessings after the jump.
| Image via Google