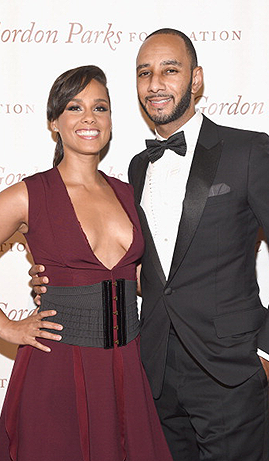 Alicia Keys rocked a fashion statement made popular by club rats during the 'College Hill: Atlanta' era (such a glorious time) for the 2014 Gordon Parks Foundation Awards Dinner held at Cipriani Wall Street on Tuesday (June 3) in New York City.
The singer was joined by husband Swizz Beatz, who hosted the event honoring Irvin Mayfield, Lorna Simpson, Vera Wang and Ed Zwick.
The mega producer took a moment to address paparazzi flicks featuring his two sons, ex-wife Mashonda and current wife during a recent interview with Power 105.1′s The Breakfast Club snapped while on vacation.
"Mashonda, she didn't like fly on vacation. She happened to be over there already," Swizz explained. "She happened to be over there and she wanted to see our son."
What's your verdict on AK's style?
"I thought that was a very positive message but even in that people still want the waters to be dark," he continued. "They was saying all types of stuff. People was saying, 'Oh, Mashonda stupid or Alicia stupid.' No, man there's kids involved. We got to go to graduations for a long time. We got to go to games for a long time. And our personal things that we threw in the past, that's the past. It's going on 5 years already."
"There were a lot of frustrating times for us. But to see us come together in a positive place, I think that's what people should focus on. It's not how you start, it's how you finish. These two amazing women are coming together."