It's the super revealing red carpet moment that everybody is talking — and sadly, it doesn't involve Aretha Franklin overexposing her breasts.
Rihanna's stylist Mel Ottenberg and dress designer Adam Selman are opening up about the completely sheer dress coming soon to Kordell Stewart's next drag showcase that the goat whisperer donned while accepting Fashion Icon Award honors at the 2014 CFDA Fashion Awards in New York City last night.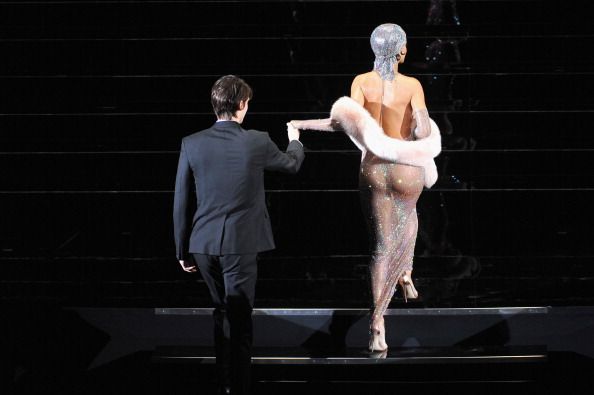 "It's so naked," Mel told Style.com. "I don't know if it's shocking—I'm with her all the time, so my shock gauge is off, but I told her that I thought she was ready for this dress a while ago, and that I wasn't. I'm the prude, and I'm just catching up."
"So many people didn't sleep last night," he added. "I would say at least eight people worked nonstop from 8 p.m. last night to 3 p.m. today putting on the finishing touches."
"We definitely wanted to make it a little bit scandalous," Adam said about the custom fishnet dress, gloves and headscarf hand embellished with over 216,000 Swarovski crystals. "The dress is just fishnet and crystals and a couple of fingers crossed. But fashion is about beauty, and the [female] body is part of that."
What do you think of the look? Sound off below in the comments section!