AJ Calloway interviews 50 Cent during his visit to 'Extra' in Times Square 
Who you finna try? According to 50 Cent (who is in full swing promo mode pushing his new album 'Animal Ambition'), Beyonce is not the docile zombie as seen in the Cartergate elevator surveillance video. In fact, she even confronted the G-Unit general once in defense of Jay-Z over a rumored beef between the two rappers.
"One time [Beyoncé] jumped off of a ledge and came running over cause she thought me and Jay had issues. And I'm like, 'What the fuck? Did she really just jump and run up on me like that?'" 50 told Power 105.1′s The Breakfast Club.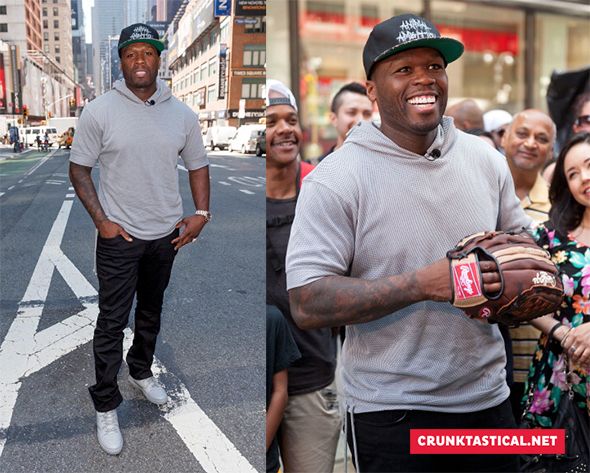 "We was at the Cosmopolitan. She jumped out and was like this, 'What?! That Bonnie and Clyde forreal! You try this or what, boy?! I'm here!' She bugged out at me. I looked and Jay starts laughing. He's like, 'Yo, you know what it is.' I said, 'Oh shit! What the fuck y'all got going on, man?' Bey jumped down off of that joint like, 'What?! Wassup?!' Matter of fact, Floyd [Mayweather] was there. We were in the Cosmopolitan in Vegas and I was bringing him to say wassup to Jay because Jay don't really like him," he added.
The Creolpatra Jones convo kicks in around the 37-minute mark: