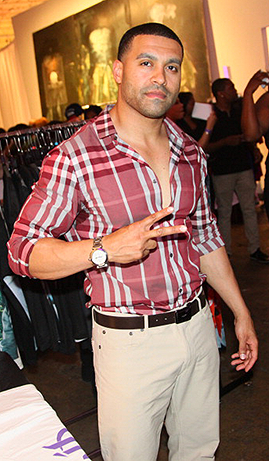 This week, 'RHOA' househusband Apollo Nida took a break from spamming the comments section of Blac Chyna's Instagram account with invitations to join is Wake Up Now team to make a visit over to Atlanta radio station V-103 to chat it up about his recent parking lot run in with T.I., what wife Phaedra Parks should do while he's incarcerated, and how his legal woes have impacted his home life.
Excerpts from his interview below!
On His Encounter With T.I. Going Viral: "First of all, I know Tip. I thought he was coming up being a man, being supportive because he's been through that same situation. That's what I thought. He was hostile, so I jumped back a little bit and put my phone in my pocket, because if this thing is about to go down then let me get ready . . .  At the end of the day, I shouldn't have put nobody's name in it. That's my fault. So in some light, I brought this on myself. But Tip knows how to get in contact with me. If this was an issue, you just don't make it an issue right there in public and try to sit there and try to make it a ploy just to boost whatever you got going on at the time . . . I'm a real humble person at the end of the day. I can't tolerate disrespect. I really played that situation real humble. I was humiliated by it. I didn't even know the cameras were rolling. That is not how men handle the situation."
On What Phaedra Parks Should Do While He's Away Fighting Off Daily Attacks From The Booty Warrior: "We're still married. I try not to be astonished by anything that goes on. I think Phaedra, in a perfect world, should be supportive as a wife should be . . . If she chooses to derail from the plan, then that's what she chooses to do. Whatever's been thrown at me, I deal with it. I would like to say I would want her to stay around and do what a wife should do."
How His Mother-In-Law Helps Keep Marriage On Track: "She lives with us Tuesday through Friday. At the end of the day, I think that Phaedra does want to hold things in the good grace of God and of her mom . . . When I have issues and I'm flustered, sometimes I'll come storming through the house and I just lash out. Then me and her will talk one-on-one, and I think that's what keeps things in the road."
The 35-year-old pleaded guilty to conspiracy to commit mail, wire and bank fraud earlier this month. Check out the full interview below.