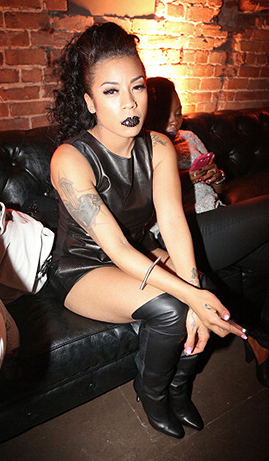 I am a firm believer of not speaking to anyone in the morning until first visiting with my good friends toothpaste, soap, and water. Nothing positive can come from people with eye crust and morning breathe.
Keyshia Cole proved my theory correct when she dialed into The Ryan Cameron Morning Show on from bed on Monday with the stank of MD 20/20 from the night before still fresh on her tongue.
Calling in to promote her new single about slapping bitches like Rick James (real facts, no gimmicks) things got ugly when radio personality Wanda Smith asked Keyshia if she thinks that she is still wifey material following her current marriage issues with estranged husband Daniel "Boobie" Gibson.
In a quote I'm sure she said to Frankie and Neffe numerous times over the years, she responded by saying  "Ya'll really fucking with my shit right now. I got some other shit going on . . . Now I'm ready to smack a bitch like Rick James"
Click here to listen!