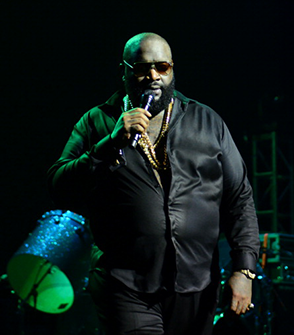 Who else is in the mood for some iambic pentameter and imaginary kilos of cocaine this morning?
Play almost any song from Rick Ross' upcoming album 'Mastermind' and watch with proud eyes as the homecoming king from your graduating class spins that Little Caesar's cardboard guitar with just a tad bit more enthusiasm.
On the flip side of things, one song lyric referencing the Trayvon Martin shooting understandably has more than a few people peeved.
On the track, "Black & White", Rozay rhymes: "Too close to a nigga as a muthafuckin' bomb / Trayvon Martin, I'm never missing my target / Bitch niggas hating, tell me it's what I'm parking / Wingstop owner, lemon pepper aroma / Young black nigga, barely got a diploma."
In a statement to VIBE, the rapper explained that the line in question is meant to acknowledge that Trayvon could have been any member of the black community.
"It's so important that today, on the two-year anniversary of the death of Trayvon Martin, we never forget that tragedy," Ross said. "I'm never going to let the world forget that name. In my song 'Black and White' off Mastermind I say, 'Trayvon Martin, I'm never missing my target'. There I'm reminding people that if you're a black person or a person of any color for that matter in this country, you have to be accurate, whatever moves you make, stay accurate. Even when you're walking down the street, playing music from your car, you have to stay on point."
Sooooooo, are your ATL cousins calling Biebz a "young white nigga" yet?
"Black men are being killed and their killers [are] beating the trial," added Ross. "It hasn't been this much violence against black men since the '60s. I am Trayvon Martin, we're all Trayvon Martin. He was from South Florida. That could have been me or one of my homies. So, stay alert and never miss your target. Whatever that target may be. Getting out the hood, providing from your family. Stay sharp. Stay alive. Trayvon, Rest in Peace."
This isn't the first time The Bawse has embarked on an "aye, my bad" apology tour. Be sure to cop your tickets early.