11 children and 10 baby mothers isn't just the makings of a well-chaperoned birthday party at Chuck E. Cheese's, its the premise for Shawty Lo's upcoming reality show on Oxygen.
'All My Babies' Mamas' is sure to become the equivalent of TLC's polygamy drama 'Sister Wives' amongst the check cashing center crowd.
The trap's unofficial One Touch spokesman sent tongues waging at a feverish pace after the pilot for the show hit the net, even sparking a petition.
But Bowen Homes Carlos insists that if you look beyond the bolded statics he is a Coogi-draped version of Ward Cleaver. Are you still down?
"You can hate all you want to, I didn't ask for it. It just happened,"he told MTV News about his untraditional family structure. "Now that it happened, I'm supposed to turn my back against it? If I wasn't taking care of my kids then you would really dog me out, but I'm taking care of my kids, providing for my family. I don't know what else to say."
How did Shawty Lo amass such an impressive gene pool? Money. And according to him, lots of it. "I came to be one of the largest drug dealers to come from Atlanta, Bankhead area and I started havin' kids. When the money came, a lot of women came. Once you feel like a girl was your girlfriend or whatever, the rubber probably came off," he explained. "They wouldn't have an abortion. They used to take the money and run with it, and they'd have a baby by the most popular guy in the street, and that's how I had all them kids."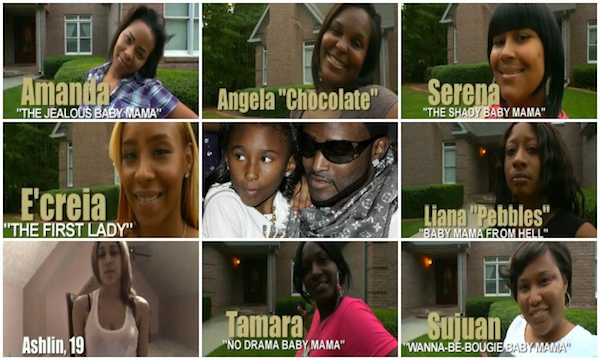 The show stars E'creia ("The First Lady") who is responsible for keeping a handle of his finances and was once engaged to Lo and nine others like Pebbles ("The Baby Mama From Hell"), Amanda ("The Jealous Baby Mama") and Sujuan ("The Wanna-Be-Bougie Baby Mama"), and Shawty's current 19-year-old girlfriend Ashlin.