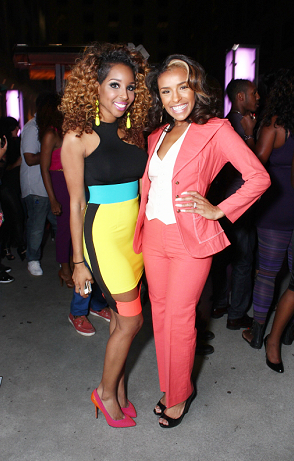 When celebrity blogger Necole Bitchie entered the scene back in 2008  a doubt never crossed my mind concerning her capabilities in harnessing her brand exactly where it currently stands — and far beyond. It was the person behind the keyboard I was more intrigued with learning more about.
I'm a nurturer. If you follow me on Twitter this quality is often times transparent through my random motivational rants. I never want people, especially up-and-coming bloggers, to feel as though I am too 'big' to reach out to if they need a push in the right direction.
Throughout my blogging journey I have made mistakes that I often cringe about in private. Your girl has also had multiple servings of humble pie within the last seven years.
I can't take back my failures but I can honor the commitment I made with myself moving forward to help instead of hurt. For the most part I believe that my reputation for offering guidance to bloggers new in the game proceeds my ratchetness. Not by much though.
It wasn't hard for Necole and I to become fast friends.
On paper, if you were to remove the element of blogging we wouldn't have much in common at first glance. She listens to The-Weeknd. I just learned how to spell his name the correct way this year — enough said. Yogurtland is her spot. I think that shit tastes like an armpit. I refuse to comment on exactly how I formulated my opinion, by the way.
Though she is extremely strong willed and determined, Necole is soft spoken in nature. Delicate almost. "Run Up And Get Done Up" isn't just a song currently in rotation on my Coon Tunes playlist it's my life mantra.
Without delving into details, it is on the personal level that our worlds connect. We have developed a genuine sisterhood. That's the homie, not the competition. More than her achievements as an online authority in African American pop culture I can wholeheartedly say witnessing her personal growth has brought me the most joy as her friend. Bravo beautiful.
Now enough with all these sentiments and shit.
C+D's west coat correspondent Denise J. was on the scene as Necole Bitchie kicked off BET Awards '12 Weekend by hosting a 'Bitchie Night Out' at Cafe Entourage. Throughout the evening, guests sipped signature X-Rated Fusion Cocktails such as "Bitchie's Bubbly", "Bitchie Night Out", and "Born Bitchie."
Interesting selections for alcoholic beverages that don't have any Four Loko in them, no?
"A Bitchie Chick is someone that plays by her own rules. She's trendsetting, fierce, independent and in total control of herself," Necole explains.
She also shared that her fashionably loud color block look came together at the last minute.
"I wore a top / shirt combination by @Geebin on Twitter. What's funny about that is I was looking through her Twitpics the day before my event and saw the outfit and said, 'Wow, I want to wear that to my event," Necole dished to me over email. "So I hit her up. I was suppose to wear something else but she brought the dress to my hotel literally like a half hour before I was suppose to leave."
Necole, who tipped through her event in a pair of Cesare Paciotti heels, revealed that its a toss up between the much-buzzed about Whitney Houston tribute and watching D'Angelo hit the stage after an extended break away from the spotlight that she is most looking forward to checking out at the BET Awards on Sunday.
She also shared her high hopes of kneeling at the yaki altar. With this the creoles are pleased.
"Beyonce is suppose to hit the stage, from what I heard, but if she doesn't I think I'll be just a bit disappointed."