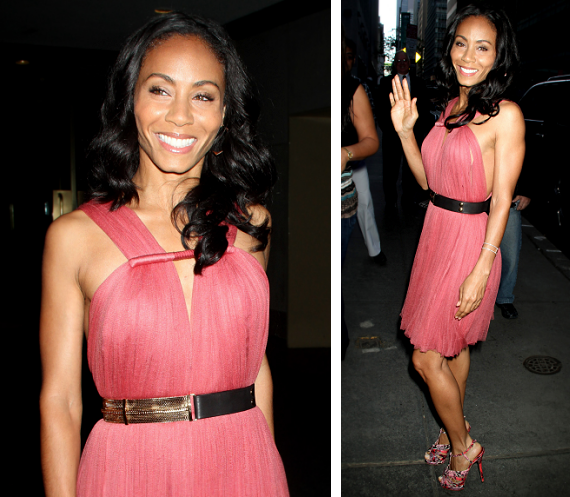 Top of the morning to you, good sir. Jada Pinkett Smith got her day started over at the 'Today' in New York City, well, today.
The 40-year-old actress was her usual stunning self in a pleated Lanvin silk-blend salmon colored frock just in time for summer during her 'Madagascar 3: Europe's Most Wanted' promotional run. She completed the look with a pair of Nicholas Kirkwood Watersnake T-Strap stiletto sandals.
Willow's glowsticks fetcher lenders her voice to Gloria the hippopotamus for the 3D film due in theaters on June 8.
"I love these 'Madagascar' movies and I hope we can do a fourth one," Jada gushed during her appearance. "The artwork and the painting and the 3D are so beautiful. I got to see it in 3D first in Cannes. And it was just beautiful, the aesthetics are just amazing."
From what I hear the pay check isn't half bad either.
Jada Keeps Making A Low-key Exit From Her NYC Hotel Last Week