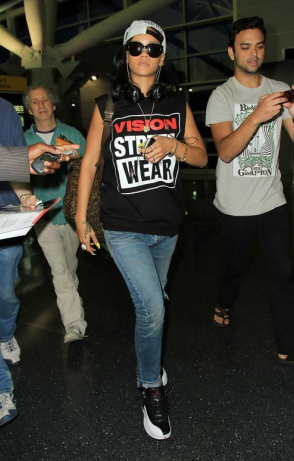 Messy interview questions; that's the shit Curry Goat don't like.
Rihanna, photographed flying out of JFK airport weekend in a sleeveless sweatshirt from the Chloë Sevigny for Opening Ceremony collection, left the journalist responsible for penning her Esquire UK cover story scrambling for words during their awkward exchange.
Responding to the question if she was sending impressionable fans mix messages for singing about domestic violence on "Love The Way You Lie" and then reuniting with Chris Brown for the sexually charged "Birthday Cake" remix, Rihanna let the flood gates of Bitch Boo Bye open with her answer.
"I know. And that's how fucked up society is. There's a lot of shit y'all can't get over. Y'all holding your breath on a lot of stuff that doesn't matter," she began.
She continued: "When you realize who you live for, and who's important to please, a lot of people will actually start living. I am never going to get caught up in that. I'm gonna look back on my life and say that I enjoyed it — and I lived it for me — and God. This is turning into a tacky interview. What do you really want to talk about? I'm not here to [talk] about messy shit."
Instagram Addict: @BadGalRiRi — 7 pictures