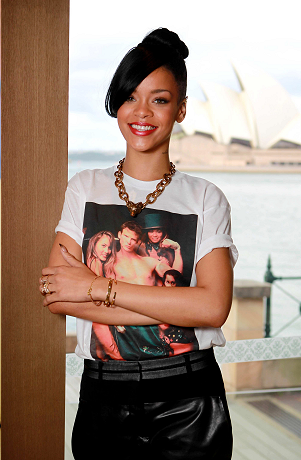 Rihanna rocked a t-shirt featuring 'Battleship' director Peter Berg in his wildboy prime as she talked that talk to media outlets in Sydney, Australia for promotion of the film on Tuesday.
The Goat Whisperer told an Aussie radio station that she felt like she would break Blue Ivy Carter the first time she held She Who Shall Not Be Named and King Carter's now 3-month-old daughter. Grandma Tina is hardly amused.
"I went to visit her once and honestly, it's very surreal. It's almost like you don't want to touch her. I held her and I just felt like 'Oh my God, she's gonna break.' She's so tiny and cute and precious."
Rihanna also hopes the couple will teach BIC about responsibility by making her sweep up yaki and shit.
"Chores are important for a young lady. They teach you a lot about life but [Blue Ivy Carter] will probably never have to do a dish in her life."
Out The Trenches: Rihanna Heads To Dinner Looking Rather Cunt
Like Crunk + Disorderly on Facebook | Follow Fresh on Twitter
Again with the cryptic messages. What Curry Goat really means is that she hopes when Blue is of legal driving age that she can act as her designated chauffeur. Her long nights of gin and coconut water have only just begun. We assigned you as that auntie months ago, Rihanna.
Covered And Smothered Like Hashbrowns: Beyonce Brings Blue Ivy On Her First Furniture Shopping Trip