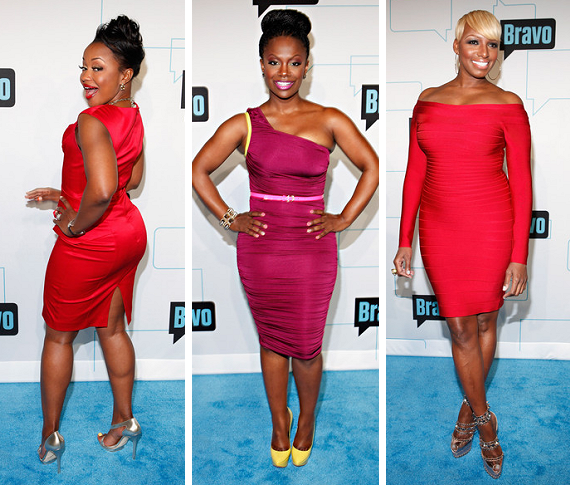 Phaedra "Donkey Booty" Parks, Kandi Burruss, NeNe Leakes and Cynthia Bailey (not included in the image above because I don't want Uncle Ben's death grip on my soul) worked the blue carpet at the 2012 Bravo Presentation in New York City on Wednesday (April 4). Notably missing from the mix were Kim Zolciak and Sheree Whitfield.
Rumor has it the powers that be at the network gave Sheree the boot before flying the other gworls up to The Big Apple. It's cold in these parking lots.
Welcome To New York City
On the season finale of 'The Real Housewives of Foreclosure' Kandi will be having a launch party for her sex toy line Bedroom Kandi and she's called in the troops to help her select a few good men for the show. Of course, Bravo shows us all the pentos before the luxury pickings. But, watch the whole clip and I'm sure you'll be wet by the end of it.
Pass me the wet wipes when your done.