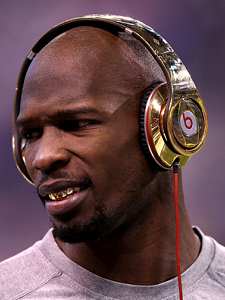 Early in the offseason he denied rumors that he would take a pay cut but Chad Ochocinco has agreed to restructure his deal with the New England Patriots to lower his 2012 base salary from $3 million to $1 million instead of being released from the team.
The 34-year-old made virtually no impact in his first season with the Pats after being acquired in a trade with the Cincinnati Bengals, catching just 15 passes for 276 yards and a single touchdown.
The restructured deal gives Ocho a chance to resurrect his relationships with coach Bill Belichick and quarterback Tom Brady or face the ultimate "child please."
In related news, Evelyn Lozada recently dished details to Radar Online about her upcoming wedding to the struggling wideout, which will be captured for their VH1 reality show.
Chad And Evelyn's Beach Date
"It's Florida in Palm Beach in July and I'm currently busy planning. I don't have my dress but I have a potential designer," she said.
"I am calm so far, I don't think I am a Bridezilla, but talk to me in May or June and it may change. I am not making everyone participating in the wedding lose weight or anything like that!"