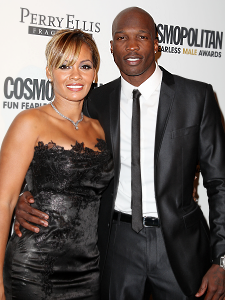 Chad Ochocinco and fiancee Evelyn Lozada will reportedly receive $300,000 each to star in their Basketball Wives spin-off, 'Ocho & Ev.' Big ass earrings all around.
An insider tells TMZ that filming on the new show will begin in the next few weeks, right after taping for the current cycle of 'Basketball Wives' comes to an end. The reality series (expected to film over the course of two months) will focus on the countdown to the couple's summer wedding. When Evelyn re-upped her contract last year, part of the deal called for VH1 to give her and Chad their own show. Smart move.
And I'm still here for Shaunie O'Neal's nostrils. Rah! Rah! Like a dungeon dragon.
"He wants to walk down the aisle," said Evelyn. 

"He's like, 'let's do it different. You can wait for me, and I'll walk down. He's not stealing my moment," she added with a laugh.
PHOTOS: Evelyn and Chad fly out of Miami in style.
Watch Evelyn chat it up about her new accessory line, friendship Tami Roman and book  Inner Circle on VH1's 'Big Morning Buzz' inside.