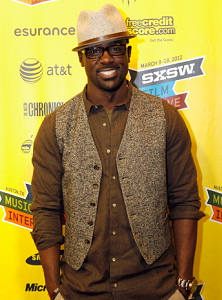 Director Matthew Cherry's indie flick 'The Last Fall' made its debut at the 2012 SXSW Film Festival as apart of the Emerging Visions category this week.
Described as a coming of age sports drama, the movie stars Lance Gross as Kyle Bishop, a struggling NFL player left with few career options after being cut by his team. Nicole Beharie, Vanessa Bell Calloway, Keith David, and Harry Lennix Jr. round out the film's cast.
"This story isn't really told a lot because when people think of an NFL player, they think that they're in financial freedom when that's not the case," Gross told Global Grind. "So Kyle was one of the players who was basically scraping the bottom of the barrel."
PHOTOS: Lance Gross in all of his chocolatey goodness on the set of 'The Last Fall' 
"So he has to return home to everybody and tell them he's been cut. He doesn't know where his career's gonna go. When he heads home he reunites with his high school sweetheart, so he's trying to work that out and overcome his obstacles."
"I think it will just open their eyes to what's really going on in the NFL. Because they're the only sport, that doesn't have a guaranteed contract," Gross explained when quizzed on the film's plot. "Basically teaching them that every NFL player isn't balling like you seem to believe."
'The Last Fall' sounds like one to check out for a more realistic portrayal of life after the final huddle. Catch the shade I just tossed you, Derwin "Ding Dong" Davis. Check out the trailer below!