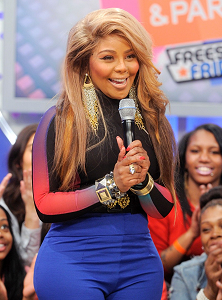 Following her Freestyle Friday appearance on the 15th anniversary of The Notorious B.I.G.'s death (how old do you feel right now?) The Prime Minister of PayPal told fans that 106 & Porch co-host Rocsi Diaz was 'disrespectful' after The Little Latin Boy In Drag attempted to touch on the subject of her ongoing beef with Nicki Minaj.
PHOTOS: Lil' Kim and her drag queen pumped hips invade 106 & Park
"No, why? We here, this is about Team Kim and everybody in here. Brooklyn in the building!," replied Lil' Kim.
"Kim, with much respect due to you and your craft, and I'm not trying to not say what the fans don't want to hear, but it's being an elephant in the room and it's being spit on there," reasoned Diaz. "It's the only reason why I address it. I respect your game if you say you don't want to talk about it, but I don't want to see you talking about it somewhere else."
With the added confidence only hips injected with Fix-A-Flat can provide, Lil' Kim shot back at LisaRaye's pussy nemesis: "At the end of the day, this is about Kim right now. We gave you that movie already, you know what I'm sayin'. We movin' on to a whole 'nother direction and if it come back that way, then we give ya'll another movie. But right now we moving into another direction. 'Bout to drop some new singles for Queen Bee and Brooklyn."
Kimbo addressed the awkward moment in a series of tweets following the recorded appearance. "I want to take this time 2 say #TeamLilKim & all my fans that came out 2 106. I fucking love u guys. Y'all really turnt it up & represented. Even when Rocsi tried to get disrespectful towards the end & ask an unappropriate irrelevant question."
Do you think Rocsi's comments were out of pocket? Press rewind below.