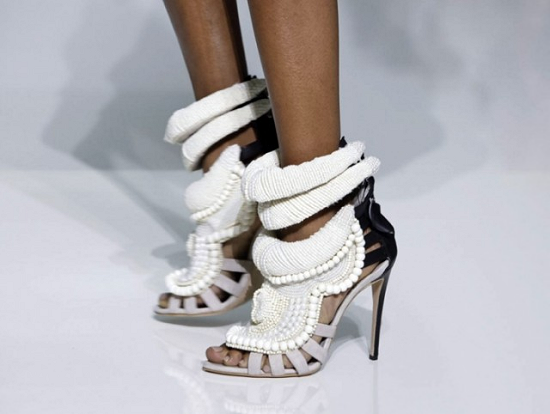 Expect for Jourdan Dunn's name to be dropped from all future "Christian Dior Denim Flow" live performances. The leggy model tweeted that while the $5,800 pair of Giuseppe Zanotti pearl-encrusted heels designed by House Mother Kanye are as sexy  as they come, the shoes are a pain to walk in. One can only imagine the pinky toe struggle a nasty j-sette routine or sudden pussy throttle would bring.
"Don't get me wrong the shoes are sexy as f–k but you can't walk in them! Or maybe its not the shoes . . . its me . . .  *shrugs*," Dunn tweeted over the weekend.
House Mother Kanye has previously collaborated with Louis Vuitton and Nike for sneaker designs and is is slated to return to the French catwalk next week to show off his latest designs for his 2012 autumn/winter collection as part of Paris Fashion Week.
Would you fork over almost six racks for a pair of heels? Check out flicks of model Chanel Iman rocking the same pair of pricey heels at the Givenchy Ready to Wear Spring / Summer 2012 show last year.