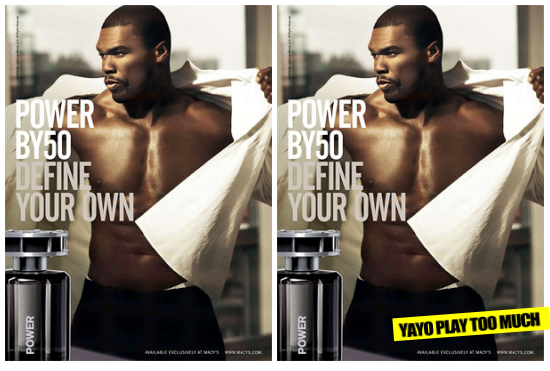 Looking for a quick and easy way to remove bullet wounds, tattoos, and fug? I'm not sure if there is an app for that quite yet but there damn sure is a photoshop brush that can wipe the slate clean.
Ayo technology game proper.
With a body as chiseled as Sheree's mandible, Curtis is almost unrecognizable in the new ad for his Power By 50 Cent cologne. He has been known to hurl a plasma television or two out of an office window in his day when upset about his business endeavors, so I'm not understanding how we got to this point. This shit looks like a flyer for corporate thug night at Traxx. Nevertheless, Southside til I die . . . or until the check clears.
Shouts out to Gimme Dat Becky [the names just get better and better] for sending this one in!